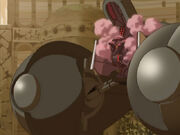 The
Apocalypse
is
Grooor
's star-racer. Made of polarized titanium, it is highly resistant and can be used to crush opponents. Stan described it as a "piece of junk", but the Apocalypse is very resistant to damage, thanks to its tough exterior. It's also heavily-armed, with a pair of cannons on the fronts of the engines and a rapid-fire laser gun mounted on the cockpit.
Team: Pirus
Pilot: Grooor
Maximum speed: 500 km / h
Features: Polarized titanium shell
Attack: Two cannons; Uses the weight of the vessel to crush his opponents.
Ad blocker interference detected!
Wikia is a free-to-use site that makes money from advertising. We have a modified experience for viewers using ad blockers

Wikia is not accessible if you've made further modifications. Remove the custom ad blocker rule(s) and the page will load as expected.