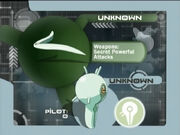 O's Ship is O's unnamed star-racer. With its bendable structure, it literally swallows its pilot, whose eye sticks out from the hull. It's made from an extremely resistant material which enables it to form various shapes.
Team: unknown
Pilot: O
Maximum speed: 600 km/h
Features: Flexible wings
Attack: Turns into a cocoon for defense, powerful energy blasts.
Ad blocker interference detected!
Wikia is a free-to-use site that makes money from advertising. We have a modified experience for viewers using ad blockers

Wikia is not accessible if you've made further modifications. Remove the custom ad blocker rule(s) and the page will load as expected.