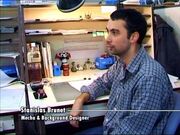 Stanislas Brunet
is the Head mecha & background designer of
Oban Star-Racers
.
Staff in:
Edit
Air Gear: Kuro no Hane to Nemuri no Mori -Break on the Sky- (OAV) : Mechanical design
AKB0048 (TV) : Mechanical design
Aquarion Evol (TV) : Mechanical design
Basquash! (TV) : Mecha design
Bodacious Space Pirates (TV) : Art design
Chō Soku Henkei Gyrozetter (TV) : Mechanical design
Croisée in a Foreign Labyrinth - The Animation (TV) : Art Setting
Macross Frontier (TV) : Set Design
Nishi no Yoki Majo - Astraea Testament (TV) : Design
Senki Zesshō Symphogear (TV) : Future Visuals
Ad blocker interference detected!
Wikia is a free-to-use site that makes money from advertising. We have a modified experience for viewers using ad blockers

Wikia is not accessible if you've made further modifications. Remove the custom ad blocker rule(s) and the page will load as expected.