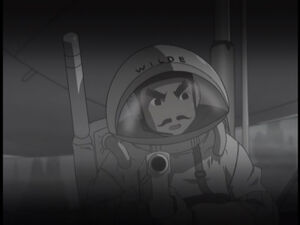 Captain William J. Wilde
is the grandfather of
Jordan C. Wilde
. He has a brief appearance during the prologue of the series, and Jordan wears a dogtag with his name on it at all times.
In 2050, William was the leader of a group of space explorers that made first contact with intelligent alien life. This discovery paved the way for the Humans to do business with aliens and gave an extra boost to their already rapid expansion into space.
However, the Crogs did not approve of the Humans' rising power. In the colonies, a series of skirmishes broke out from 2055 to 2056. During this time, William was taken prisoner while exploring the Crog area. This is most likely the event that is shown in the prologue when he steps out of his ship and is quickly surrounded by heavily armed Crogs. Somehow William survived his ordeal and was able to return home to Earth, but he faced more problems there. It was rumored that William revealed top secret information to the Crogs regarding Earth's defense system. Whether this is true or not has never been confirmed, but it is probably the reason why Jordan has such an intense hatred for the Crogs. It is also very likely that William is dead by the time Jordan is wearing his dogtags.
The initial "J" in William's name stands for Jordan. Jordan was named after him.
Ad blocker interference detected!
Wikia is a free-to-use site that makes money from advertising. We have a modified experience for viewers using ad blockers

Wikia is not accessible if you've made further modifications. Remove the custom ad blocker rule(s) and the page will load as expected.